St. Symmachus's Church (Barrville)
From The Urban Dead Wiki
Jump to navigation
Jump to search
St. Symmachus's Church
Barrville [44, 48]
Basic Info:
Churches have no internal descriptions.
Church doors do not close but can be barricaded shut.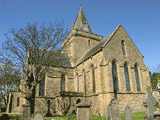 Description
The exterior of this derelict white-stone building and the large plaza surrounding it are simple, save the window frames which are carved and painted in differing shades of blue. The interior is a network of arches, standing where walls should be, and rooms off to the sides, that could be more aptly described as cells.
Once home to the Nuns of Symmachus, this church and its bordering hospice -- that would come to be known as Patriarch General Hospital (Barrville) -- have stood in this part of Malton for near ninety years. The Nuns, while respected for their devotion to the sick, were also greatly feared by the community. Wielding seven foot canes, a sortie of Nuns could clear a street before they'd even stepped out the Abbey doors. The hidden praying that they wouldn't be making a call to their door. --Father Bigley 15:02, 11 October 2007 (BST)
History
Activity
2018
Building and surroundings are intact and nearby TRP's are lit and safe too -- Jack's Inflamed Sense Of Rejection (talk) 20:22, 14 June 2018 (UTC)
Barricade Policy
As per the Barrville Barricade Plan this building is to be kept at VSB so it may serve as an entrypoint.
---