Search For The Cure
From The Urban Dead Wiki
Jump to navigation
Jump to search
Search For The Cure
Search For The Cure is a Urban Dead group that prioritizes healing and revivification of the sick or zombified. They do not respect rules against reviving those who do not wish to be revived, and see this method of treatment as part of the cure. Search For The Cure occasionally posts "propoganda" posters, though currently their activity is limited in Malton.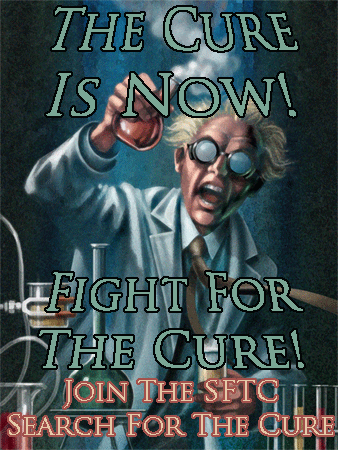 Areas of Activity
Search For The Cure attempts to reclaim Hospitals and turn them into major healing points. Contrary to popular belief, they do in fact make house calls. However, for those seeking professional healing (ie, people with the Surgery skill in a powered building), look no further than a Hospital that has been comandeered by Search For The Cure. You will, usually within 12 hours, be restored to full health.
Current Location:
Philip General Hospital - Galbraith Hills (DrHorst, CcGame0)
St. Agne's Hospital - Barrville (Yarium)
Recent News:
Sunday, May 06, 2007
Philip General Hospital has become a source of healing and safe-house for many in the region. Its windows shinning light to all who pass by her pearly gates. Hospital Staff are once again beginning to return to aid the sick and injured.
However, we have caught the attention of those who would seek to feed us to the zombie hordes. PKers have attacked and destroyed the hospital's Portable Generator.
Thankfully, Dr. Yarium was quickly able to locate a new generator and fuel, and the hospital is once again operational. Progress continues to prepare an expansion of SFTC to a new, nearby hospital to increase range of service.
Monday, May 07, 2007
Dr. Yarium has brought First Aid Kits and set up a SFTC outpost at St. Agne's Hospital in Barrville. The building is delapitated and will require a serious effort to be made fully operational. It is currently unpowered and understaffed and looking for support. Hopefully that will soon be rectified.
Dr. Horst has stayed behind at Philip General Hospital to organize SFTC at that location. Our thoughts are with him and his patients.