Stowell Towers
From The Urban Dead Wiki
Jump to navigation
Jump to search
Stowell Towers
Lockettside [23, 85]
Basic Info:
Multi-story housing blocks. Windows can be jumped from to turn a character into a zombie.
Towers have no internal descriptions. Some towers, like Lerwill Towers in Greentown, have mobile phone masts mounted on them.
Stowell Towers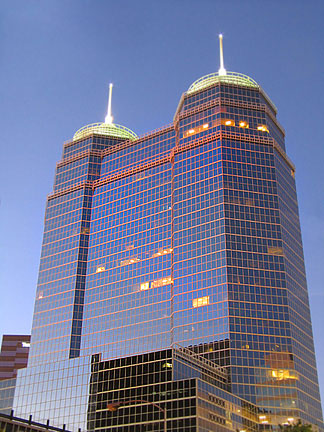 Description
It's windows are shattered, offices looted, walls vandalized, and occupants scattered to the winds, the Stowell Towers frequntly sits in silence. It is but a husk of a building, but survivors have made their way into the Stowell Towers to find some semblance of sanctuary from the chaos of the streets. Repeated vandalism and rampant zombie incursions have lead to survivors breaking out windows to take random pot-shots at the undead mobs or to drop filing cabinets onto their heads.
History
The Stowell Towers had been the center point for monumental business transactions in the past with sixty stories of floors, It's twin spires were an icon for the Lockettside Tech Center. Having once been home to several high-security companies, the building was relatively easy to secure in the days of zombies. Once a beacon of industry and commerce it now it rests in a shattered shadow if its former glory.
As of Oct 20, 2008, the Stowell Towers had become home to the survivor group known as HOPE (Humans Operating in Punative Extremes). Seeking to provide a safe house for fellow survivors, as well as patrolling the surrounding areas, HOPE sought to keep the events of Lockettside accounted for. They claimed occupancy for over a year following their establishment, but the group has since been silent for over a decade.
Much of the Stowell Towers history following the Zombie Incursion has been sordid and uninteresting. Zombies and survivors alike have found their way into and out of the Towers, none of which staying for any extended periods of time.
Barricade Policy
The current Barricade Policy for Stowell Towers is Extremely Heavily Barricaded (as per the Lockettside Barricade Plan). The neighboring Warehouse (25, 83) is the closest access point into the Towers, and is set to Very Strongly Barricaded (VSB).
Current Status
24th April 2020 - Scouted. EHB. Mafiamanz (talk) 16:00, 24 April 2020 (UTC)
Jul 10, 2013 - Nobody inside. Nobody outside. EHB. Genny out of fuel. --RoyKirk 08:10, 10 July 2013 (UTC)
Jun 12, 2013 - You are inside Stowell Towers. The building has been extremely heavily barricaded. A portable generator has been set up here. It is running.-RoyKirk 16:53, 12 June 2013 (BST)
Jun 18, 2009 - You are inside Stowell Towers. The building has been very heavily barricaded. Also here are Raul 'Sparky' Garcia and Wendy Spitz. Somebody has spraypainted HOPE HQ (http://wiki.urbandead.com/index.php/HOPE) onto a wall..--Zekkuzu 11:28, 18 Jun 2009 (GMT-3)
May 18, 2009 - You are inside Stowell Towers. The building has been extremely heavily barricaded. Also here are Will McLean (60HP), Orrazib (50HP), Alex Isler (60HP), Herod Young (60HP) and Zombai Nan Zezay (50HP).A portable generator has been set up here. It only has a little fuel left, enough to power a radio transmitter that's currently set to 28.30 MHz. The lobby has been decorated with a French tapestry, a mouldering tapestry, a historical tapestry, a print of a tapestry, a European painting, a skull, a faded tapestry and five African paintings. Somebody has spraypainted HOPE HQ onto a wall.--Dr Mycroft Chris 17:21, 18 May 2009 (BST)
Mar 12, 2009 - With much of the Zombie activity subsided, the Tower has been repaired and rebarricaded. The Stowell Towers once again is home the members of HOPE. --William Holtz 16:14, 12 March 2009 (MST)
Mar 9, 2009 - Ruined with a constantly changing number of zombies around it. --Warfates 00:48, 9 March 2009 (UTC)
Dec 18, 2008 - After much back and forth the Stowell Towers is now resecured, repopulated, and safe. Currently back in HOPE's hands. --William Holtz 08:17, 18 December 2008 (MST)
Dec 13, 2008 - Scratch previous, zeds broke down the barricades and killed all inside. Probably going to be a hotly contested site. --aClashInRedSnow 20:28, 13 December 2008 (UTC)
Dec 11, 2008 - Apparently back in HOPE hands from what the graffiti proclaims. No power or generator but extremely heavily barricaded and not under attack. A few survivors around. --aClashInRedSnow 04:25, 11 December 2008 (UTC)
Nov 27, 2008 - Ruined with five zeds inside.
Oct 23, 2008 - Secure and in HOPE (survivor) hands.
---