The Higgs Arms
From The Urban Dead Wiki
Jump to navigation
Jump to search
Description
An imposing concrete corner pub covered in abandoned scaffolding, with a distinctive clock tower.
History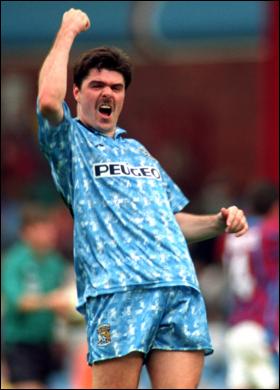 During the 1980s, Harry 'Tubby' Higgs was a legendary centre-back for the atrocious Malton Rovers before his forced retirement due to injuries. (Although never injured himself, he continually caused injuries for other players, often by sitting on them, and amassed so many suspensions that he was only due to return to the first team in 2012.)
Higgs's role in the team's record-breaking achievements (most goals conceded, most players sent off in a season, most own goals etc) led to a popular campaign to erect a monument to him, which can still be seen in southeast Stanbury.
Like many football players before him, Higgs' post-footie ambition was to open his own pub. The Higgs Arms is just a short limp from Floyde Stadium in Barrville, and, as with his defending, Higgs took his role as publican extremely seriously. The Higgs Arms soon became well-known in central Malton for the quality of its frothy brown beverages, served perfectly at room temperature with a range of delicious Pub Grub such as chicken in a basket, chicken and chips, egg and chips, and chips and chips, all served with a garnish. Higgs took pride in tasting all the food himself before letting it leave the kitchen.
Higgs was behind the bar when the Malton Incident occurred. His call of "Time, gentlemen, please" was ignored, as the increasingly agitated regulars groaned for an alternative to pork scratchings. Shortly afterwards Higgs finally incurred a few career-threatening injuries of his own.
The Higgs Arms clock tower allegedly stopped at the exact moment of his death.
Barricade Policy
Entry point - Keep barricades at VSB.
---