Reclaim the Nich
From The Urban Dead Wiki
Jump to navigation
Jump to search

Intro
In the quiet and prosperous suburb of South Blythville lurks a constant menace. The Nich Building, located between two thriving and heavily populated malls and five Police Departments, is in a constant state of emergency. South Blythvillians can no longer sleep under the stars nor can they stand and admire for hours the various fabulous monuments. For over a year now, the Nich building has not been in survivor hands for more than 3-4 days at a time. A small -yet determined- group of zombies keeps tearing down our barricades, ruining our precious lab equipment and killing our scientists. Not only do they disrupt the operation of said NecroTech facility, but when they're bored, they attack neighboring TRPs and buildings. Locals no longer queue up at Park Walk to get their fixes and visitors all over Malton who happen to pass over in the area stand there for days waiting for that much needed Mk-II, alas in vain!
Well, we can't have that anymore! It's high time we did something about them Nich zombies. Our beloved suburb has to be kept zombie-free. The Nich Building must be fully functional in order to fulfill not only the needs of our Suburb, but also those of Wykewood and Mornington. Hell, even if it was situated in a suburb full of NTs, would that be reason enough to abandon it? Do you folks have any idea how difficult it is to come by mass spectrometers, NMR instruments and scanning electron microscopes in a quarantine?
Objective
Well, that's quite obvious, ain't it? Anyway, the Nich has to remain constantly occupied by humans for at least 10 days (nothing wrong with being optimistic, right?). The hardest part will be to motivate residents of S. Blythville to continue to operate the facility.
The (sort of a) Plan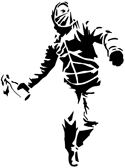 Spread the word! Use your imagination, your spray cans and the airwaves. Our tinyurl: http://tinyurl.com/6c9rwd
On the specified date and time we storm the place, barricade it and start doing scientific stuff.
Anyone waiting at Park Walk must be served ASAP. Keep those needles flowing!
We maintain free-running lanes and keep surrounding buildings clear of zombies.
Constant communication with Marven Mall is essential, so bring along your transmitters, gennies and fuel cans. Keep them tuned to 27.99MHz.
Be prepared for a LONG siege, this is not for the faint of heart, the easily bored or trenchies.
Feel free to sign up here:
Human groups
Special Zombie Extermination Squad
Individuals
I'll be there and PKing away. --JAREDPlay the game
News
November 21
How sad and pathetic you harmanz are. Let us unleash your potential. Just one little bite will do it. -Zach54
November 18
Well, it's been another busy day. Early in the morning (or late at night) survivors evicted the zombies and restored the Nich building, only to be kicked out several hours later. At least there was enough time for the manufacturing of Mk-IIs to revive the fallen. Now that the RRF is on our doorstep things are expected to become more interesting, at least it will take the boredom away of killing and getting killed by the same people every day. --MaDB0mBeR 18:26, 18 November 2008 (UTC)
November 17
Surprise, surprise. The living dead once again occupy the building. Tomkyns Motel (1N) has also been ruined. --MaDB0mBeR 11:34, 17 November 2008 (UTC)
November 16
This is a brief summary of recent events. The Nich building changed tenants four times in the past four days. Thanks to the "concentrated awesomeness" of a God among men and the spectacular efforts of other TMS members it became operational for a while, until the zombies managed to get back inside and eat everyone's brains. Several trenchies that would supposedly help out on D-Day were a no-show, but no one wept. For the moment survivors hold the place, but the night is still young... --MaDB0mBeR 00:02, 17 November 2008 (UTC)
November 12
Nich is now a playground for the undead. Bennet Cinema and the Crawley building have also been ruined. --MaDB0mBeR 11:46, 12 November 2008 (UTC)
November 11
21 bodies litter the sidewalk outside the Nich. The building is again in survivor hands. A couple of friendlies among the fallen. A few other buildings that were ruined after the attack have been quickly retaken. Generators, fuel cans and radio transmitters are needed. --MaDB0mBeR 20:57, 11 November 2008 (UTC)
November 10
After a brief period of inactivity, the zombies took over Nich. --MaDB0mBeR 20:51, 10 November 2008 (UTC)