Ruggevale Walk Police Department
From The Urban Dead Wiki
Jump to navigation
Jump to search
Ruggevale Walk Police Department
Owsleybank [9,44]
Basic Info: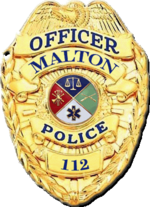 There is only one Police Department in the suburb of Owsleybank - Ruggevale Walk Police Department. The survivor group, DHPD is in charge of this area. Refer to the DHPD main page for more infomation.
Located in suburb of Owsleybank in Malton this particular precinct is the area surrounding the police station located at [9, 44]. The Precincts head is in charge of Ruggevale Walk Precinct Station's operations, security and resources. See DHPD Ruggevale Walk Precinct for more details.
Barricading
This buildings is only to be barricaded to Very Strongly only.