Club Brookeman
From The Urban Dead Wiki
Jump to navigation
Jump to search
Club Brookeman
Shuttlebank [34,17]
Basic Info:
Clubs are Dark buildings.
The usual internal description of a Club reads as follows:

"…in the near-darkness of the main dancefloor."
When powered by a portable generator, the internal description changes to the following:

"Coloured spotlights highlight an empty stage, and distorted music echoes over the speakers."
Clubs can be barricaded normally.
Club Brookeman, located at coordinates [34,17], is one of four clubs in the suburb of Shuttlebank. It is a narrow concrete building surrounded by railings. Baseball bats, beer, mobile phones, and wine can be found inside.
Barricading Policy
According to the Uniform Barricade Plan and similar plans drawn up by the Shuttlebank Militia, Club Brookeman is to be kept at the level of Extremely Heavily Barricaded.
Actualy since the milita has given no signs of life, and the clubs new owners, wants people to have an easy way to enter, we have decided to let the barricades at VS + 2.
2nd June 2013
Status - ruined "THe Club has been only recently under siege and has fallen like a leaf at first windy blow.It seems the baricade level wasn't enough and survivors inside either fled or killed." Concerned'Citizen 00:17, 3 June 2013 (BST)
Current Status
November 13th, 2008 still ruined..--Brian Eetar 11:47, 13 November 2008 (UTC)
December 11th, 2007 RUINED! EASY! --Talunex 23:22, 11 December 2007 (UTC)
Presentation
WELCOME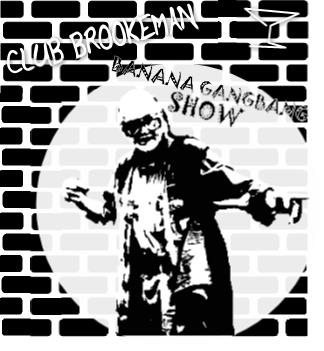 Please, dont shoot our local zombie, his banana gangbang show is the new spectacle!
Prices
5$ for a beer
6$ for a bottle of wine
And we accept european money too. You know: pounds, €, and all of those rubbish.

WE OPEN EVERY FRIDAY, NO MATTER THE COST
VIP LIST
Barbecue Barbecue.
Any member of the South Shuttlebank City Council
Bannded for LIVE&DEATH: THE BLACK LIST
James Nojaws,TedthefriendlyZ,Naralos,tyfler,slim bob,Maeva,heckle,UIisse,Pathetic 'Bill,Franz MoIotov,BIack Mask,stagad,Zipped,blackemrald,bpaco, Teont, Sam Lexton, Chippp .

Peopel in this list, attacked customers on the club, or worse... they destroyed /ransaked the club
Personal
We have a nice waiters and chairmen that could atend all your demands. Dubov, Hornazombie, Morfis (The original Banana GangBang! Master) and the fantastic PACO BROTHERS: apaco & cpaco. Security and suplies are provided by MagnusCalgar, Hida tenshu, Kuni tansho and Hantei. Public Relationships provided by Zampabollos. Medic suplies provided by the ex-PK (please STOP kill him) Dr Ocelot. Giving his love, and eating your liver (only if you have a liver donor's card) DynaBomber.
We have on the stage some surprises, like xxxputaxxx, the fantastic not-living vedette.
History
Now on 2007, a cup of new owners and a zombie comic, have taken control of the club, providing the comunitiy with free beers and comics spectacle, the famous banana ganbang show, and some famous guests, as the zed of Johann Gambolputty de von Ausfern -schplenden -schlitter -crasscrenbon -fried -digger -dangle -dungle -burstein -von -knacker -thrasher -apple -banger -horowitz -ticolensic -grander -knotty -spelltinkle -grandlich -grumblemeyer -spelterwasser -kürstlich -himbleeisen -bahnwagen -gutenabend -bitte -eine -nürnburger -bratwustle -gerspurten -mit -zweimache -luber -hundsfut -gumberaber -shönendanker -kalbsfleisch -mittler -raucher von Hautkopft of Ulm
December 11th

--Talunex 23:22, 11 December 2007 (UTC)
February 27th
EY EY EY, CHILDS!!! This friday 2nd of March the Famous Banana GangBang Show is coming again for give us goodness feelings. Don't lose the oportunity of see it again HERE in your favourite Club.
March 6th
HI, GIRLS!!! The Party is always on here, in the Club Brookeman. We proudly presents a fantastic spectable Zombie-free since this friday. But this friday we let the Paco Brothers do the stuff that all of you want see. BANANA GANG BANG AGAIN!!!!
March 7th
The Club Brookeman is always taking care for good taste. We have a modern art collection now, for the enjoying of all our costumers. And don't forget to ask for a freshing Duff. Duff: THIS is beer.
March 15th
Due to the lack of personal, and new zombie houer ordenances, the club will only open fridays on 22:00 houers GMT +1, and the closing time will be set by the local zombie populatión. We recomend customers, not stay until down on the club, and to drink as much as they can!!
We are opening our two list, The VIP customers list and of course the bannden for live&death black list
March 22th
Ey, girls. Do you WANT some flesh this friday?. So then come to the eternal party at Club Brookeman this friday. And now we ASSURE you that it will be open from 22:00 GMT. Be afraaaaAAAAAAaaaid.
March 28th
Friday... Party... Club Brookeman... BANANA GANGBANG... 2x1 on brains since 2:00 am... human freeeeeeeeeeeeee...
April 2nd
Hello again, freaks & friends. Werever we live again so the party never ends. And now, for somethnig completely diferent, the personal of The Club Brookeman is going to search his own costumers merging the content of the sirynges with fresssshing Duff. So we hope you enoy it. Its death-free!!!
"Be Duff, my friend"
April 10th
Yes we are operative agian, as our grand reopening we invite evrybody to return to our special mama banana gangban show, wich will perorm our local zomic, Morfis, who has been revided, and now can talk!!! You may see how a pervert bastard he is, he is better zombie than person!!
April 12th
TOMORROW IS DA DAY. LOOKING FOR FIESTA? HAVE YOU GOT ENAUGH OF ZOMBIE WAY-OF-LIFE? COME TO OUR CLUB. TOMORROW IS A ZOMBIE FREE PARTY. ALCOHOL! ALCOHOL! ALCOHOL, ALCOHOL, ALCOHOOOOOL! WE HAVE GONE HEEERE TO GET DRUUUNK!!!! AND DOESN'T MATTER THE REST!!!
April 26th
As always says on The Club Brookeman: "Give me that Banana". We ALWAYS open on fridays. ALWAYS. The rumors of our death were terrible exagerated. Tomorrow, on the special "PAELLA'S FI DAY" we offer to our costumers a special typical spanish paella JUST FOR FREE. (FI its for FIESTA). And zombies are invited too. Everybody is invited to invest on our Club. See all of you tomorrow. Or, as spanish people sez: "Nos vamos a clavar una fiesta alcoholica que no nos va a reconocer ni la madre que nos parió"
March 3rd
Now, on the Club Brookeman, we are extremely glad of the return to the living activity at Shuttlebank. WILKOMENN, Yorba, BB, and the others drunk people! Tomorrow: THE SHUTTLEBANK RE-OPENING PARTY!!! See you (or not) on the Club.
March 7rd
We apologize for the recent behaviour of our ex-zed-comediant bpaco. He is in red for some really stupid reasons. We are fixin the problem now. And we hope this incident woud't repeat on future.
May 23rd
Mongrelman, Mr Swerve (or something), Teont... KIZZ ME AZZ. This friday, on Club Brookeman: The amazing "MONGRELMAN IS A BIG CRAP" Party. Everybody is invited to shoot Teont, or anypig of the killers and destroyers of Marfell building or The Club indeed. Enjoy!
15th SEPTEMBER
YAAAAAAAAAAAAAAHOOOOOOOOOOOOOOOOOOOOOOOOOO!!!!!!!!!!!!!!!!!!!
Nice nice summer, indeed. WELL, we are all back again for rumble and shaking all your bodys. And now for something completely diferent.
06th OCTOBER
REVIVE THEM ALL. LIFE WILL PROVILE. ATTACK EASTONWOOD, MY FRIENDS. IS LIFE TIME. LIFE!!!! LIFE!!!! REVIVE!!!!!!!!!!!!!!!!
WE OPEN ALL FRIDAYS.
NO
MATTER
THE COST!!!!!