The Fevin Monument
From The Urban Dead Wiki
Jump to navigation
Jump to search
the Fevin Monument
Rolt Heights [86,16]
Basic Info:
This is, game-play wise, an empty block, and cannot be barricaded.
After the July 3, 2009 update, some monuments became tall and can be seen from a distance with binoculars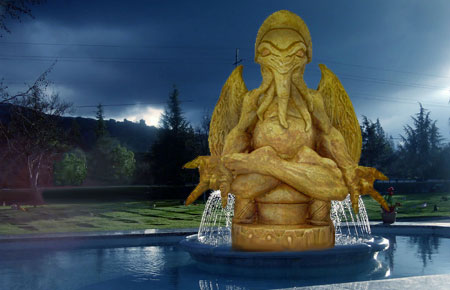 Description
Humans and zombies alike will see the following (permanent) description when standing in front of the monument:
"You are at the Fevin Monument, a white marble statue of a 19th century figure surrounded by grass."
The Fevin Monument is an ominous monument located in the suburb of Rolt Heights. Named after the archaeologist and explorer, Obed Fevin, the massive stone sculpture was shipped back to Malton in 1938 after Fevin returned from a 2-year science expedition to the islands of the South Seas. In truth the statue was but one of several bizarre artifacts that Fevin had brought back with him on the ships he had charted for the expedition, as his fleet consisted of three ships — the brigantine Columby, the brig Hetty, and the barque Sumatry. Among the decided grim statuary Fevin is said to have brought with him a small fortune in gold jewelry, supposedly "gifts" given to him from a reclusive tribe of islanders, although those who had actually laid eyes on the jewelry commented that their design was decidedly strange, almost inhuman.
Of course while Fevin was talkative about most of his expedition any questions pertaining to the islanders of the source of the artifacts usually ended in him changing the topic or simply ending the conversation. Of course no one blamed him for his secrecy, after all a single trip had made him a wealthy man, and no doubt he intended to one day return to those islands and return perhaps with even more gold. The Fevin Gold Refinery was purchased for the exact purpose of refining and selling the gold on the open market.
This statue was donated by Fevin to the suburb not long after he had returned and was accepted only due to the rarity of the statue's exotic design rather than the unknown diety it represented. While the statue had no name it soon became known as the Fevin Monument. To this day it stands within this small park, surrounded by a stand of trees, although few people visit here as even during summer a chill wind often blows through the area.


---