Mare Towers
From The Urban Dead Wiki
Jump to navigation
Jump to search
Mare Towers
Rolt Heights [85,15]
Basic Info:
Multi-story housing blocks. Windows can be jumped from to turn a character into a zombie.
Towers have no internal descriptions. Some towers, like Lerwill Towers in Greentown, have mobile phone masts mounted on them.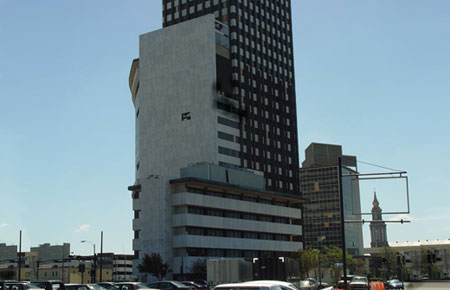 Description
The roof of Mare Towers [85,15] is the location of the mobile phone mast in the suburb of Rolt Heights. Inside the building, Rolt Heights Vigilante Patrol and their brethren go about their business, crip-walking as they go, and occasionally pausing to refuel the generator, reinforce the barricades with office equipment, and throw shapes.
Ammunition to repel the occasional zombie breakthrough is collected from the Ayliffe Street Police Department [82,17]. First Aid Kits are best picked up at St. Arnold's Hospital [84,20] in Gibsonton or at St. Seraphim's Hospital [84,17] in Pashenton.
Fuel cans to keep the portable generator running are obtained from the nearby Lovell Auto Repair [88,14]. NecroTech-branded needles and syringes are produced the Patterson Building [81,20] in Gibsonton for those of the scientific bent.
Current responsibility for the Rolt Heights phone mast has been assumed by the Rolt Heights Vigilante Patrol.


Barricade Policy
Barricades should be kept at Extremely Heavily at all times. The barricades must be kept at this level in order to ensure that the building's portable generator is protected and thus maintain wireless communications throughout the suburb.
The Rolt Heights Vigilante Patrol have claimed responsibility over this building and therefore are tasked with maintaining the barricades at a secure level.


NecroWatch
Now considered this suburb's Scout Point for NecroWatch. As this suburb has no NTs, a composite scout report can be made from this location and posted on the page for this suburb to the benefit of all. If you are interested in continuing the scout report, especially during times of zombie seige, please contact NecroWatch--Dr Mycroft Chris 22:11, 2 May 2009 (BST)
Most recent scan
Current Events
July 14 2009 - Mast found destroyer, building ransacked
November 20th, 2008 - After the MOB marched through Rolt Heights, killed everyone, and ransacked every building, some survivors started to rebuild a couple of buildings. Mare Towers is VHB right now and powered. --Kabejota 07:53, 20 November 2008 (UTC)
November 3rd, 2008 - The Building is still powered and EHB, but there is no Radio transmitter inside. --Kabejota 15:08, 3 November 2008 (UTC)
July 31st, 2008 - The tower is EHB, with 1 resident survivor. --Steve byr 20:17, 31 July 2008 (BST)
June 22nd, 2008 - The building is VSB+2. During a zombie attack the generator has been destroyed. 3 dead bodies outside, no zeds around. --suver 03:08, 22 June 2008 (BST)
June 15th, 2008 - Mare Towers are VSB+2. A portable generator has been set up here but it´s running low on fuel. Standzs 20:56, 15 June 2008 (BST)
March 10th, 2007 - There was carnage at Mare Towers today as the zombie group, Dead Air, breached and ransacked Rolt Heights' mobile phone mast. Half a dozen survivors were ripped apart by ZbahrZahr, Razhgarg and several other ferals. Survivor reports indicate that this attack was the direct result of the group's Tour '07, which has them moving from suburb to suburb in an effort to destroy every phone mast building along the way.
March 7th, 2007 - "As of now, the Rolt Heights Vigilante Patrol will be assuming full responsibility of the Mare Towers phone mast. Our group is currently in control of the southern Rolt Heights area, claiming and protecting locations such as Ayliffe Street Police Department and the Lanhdon Building. Any survivors seeking shelter are welcome." --SOLDIER Corvus
April 27th, 2007 - Knightmonger, of the Brotherhood of the Reckoning murdered a survivor by the name of Tor Na'Goth. This murder, like the one earlier this month, was also attributed to the Rolt Heights War.
April 5th, 2007 - Cobra007 of Red Rum murdered insaneinthemembrane of Newgrounds fame. Not that he was all that famous. Regardless, he was a victim of the Rolt Heights War.
November 25th, 2006 - As of now, the tower is empty, but the generator is fueled and barricades at maximum. --Remoc 22:56, 25 November 2006 (UTC)
August 6th, 2006 - The reactivated, but abandoned, Mare Towers is silenced by by the zombies of Dead Air.
July 8th, 2006 - Mare Towers, along with several other local buildings, have been overrun by the Ridleybank Resistance Front. Those survivors attempting to defend the phone mast are forced to flee for their lives.
April 29th, 2006 - After a couple of weeks of weak nonsense, the Galactic Mystery Solvers have regained control of Mare Towers. Known vandal, Tittybar, keeps on destroying generators and killing members of the GMS. If you see him, punch him in the back of the neck.
---