Bullor Library
From The Urban Dead Wiki
Jump to navigation
Jump to search
Bullor Library
Rolt Heights [85,14]
Basic Info:
Libraries have no internal descriptions.
Libraries can be barricaded normally.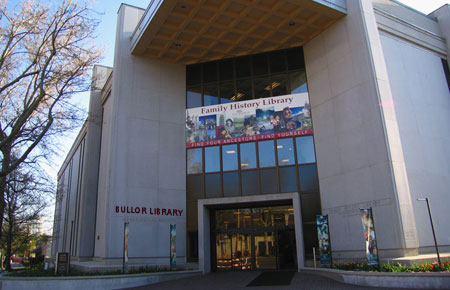 Description
The Bullor Library is just one of several ultra-modern libraries located in the suburb of Rolt Heights that was named after the Bullor Family. Oddly enough this one is a genealogical research library owned and operated by the Church of Jesus Christ of Latter-day Saints (i.e. the Mormons). Its main purpose is to fulfil one of Mormons' fundamental tenets: that church members can retroactively baptize their deceased family members, especially ancestors, into the church so that they may receive salvation from the flames of eternal damnation. The Bullor Library is considered the largest genealogical library in North America and is open to the general public at no charge. The library holds genealogical records for over 110 countries and territories. Its collections include over 1.2 million rolls of microfilmed genealogical records; 412,000 microfiche; 75,000 books, serials, and other formats; 1,500 periodicals; 320 electronic resources.
The library was in the process of digitizing its entire microfilm collection. A process that was estimated to be completed in about 2012. Of course the "Malton Incident" put a halt to those plans, and while some of the genealogical resources were transported from the library during the evacuation most of the information the Mormons had collected still resides here. Not that any of this information has proven useful to the survivors of Malton.


Mandate
None, it's a genealogical research library. Go, uh, read about your ancestors or something.


Barricade Policy
This building should be Very Strongly (VS+2) barricaded at all times. This is in accordance with the mutually supported Rolt Heights Barricade Plan set forth in agreement with local survivor groups. This building is meant to serve as a shelter for Malton's inexperienced survivors and an entry point into the more fortified buildings around it.
It should be noted that as no specific survivor group monitors nor maintains the barricades associated with this barricade plan, so therefore it is not considered to be enforced. As such, survivors should always expect to find the barricades set at varying levels depending on the survivors inside the building. For the most part though, survivors should always expect to find this building over-barricaded rather than under-barricaded simply due to survivor nature.


Current Events
October 1st, 2007 - Local survivors have reported that the Malton Liberation Army have apparently abandoned the library and moved their base of operations to Raines Hills instead. At this time no survivor group has claimed the building as their own.
June 3rd, 2007 - The Malton Liberation Army have claimed the library as their new headquarters.
April 10th, 2007 - Today Special Agent Mulder of Red Rum murdered two survivors, a rookie by the name of Lifleviya and Kryon of the South Paynterton Aces. These deaths were later attributed to the Rolt Heights War.
July 8th, 2006 - The Bullor Library was overrun and ransacked by the Ridleybank Resistance Front zombies. Who proceeded to toss out all the old "human literature" and replaced it with zombie literarture, which was mostly composed of bloodstained scribblings on dried human flesh. Afterwards, Sonny Corleone dedicated the library to retired Propaganda Corps Leader, Dangermouse.
---