Club Webbe
From The Urban Dead Wiki
Jump to navigation
Jump to search
Club Webbe
Rolt Heights [87,15]
Basic Info:
Clubs are Dark buildings.
The usual internal description of a Club reads as follows:

"…in the near-darkness of the main dancefloor."
When powered by a portable generator, the internal description changes to the following:

"Coloured spotlights highlight an empty stage, and distorted music echoes over the speakers."
Clubs can be barricaded normally.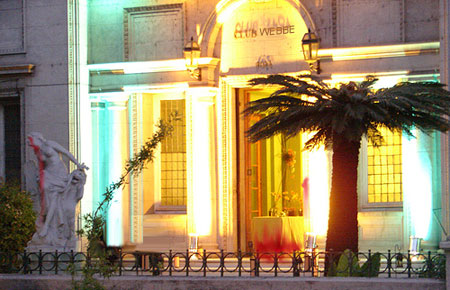 Description
Club Webbe is a nightclub located in the suburb of Rolt Heights.


Barricade Policy
This building should be Very Strongly (VS+2) barricaded at all times. This is in accordance with the barricade plan set forth by the Burchell Arms Regulars, who routinely monitor the barricade level for this building. This building is meant to serve as a shelter for Malton's inexperienced survivors and entry point into other nearby fortified buildings.
Survivors who find the building's barricades below their assigned level are asked to assist in raising them back up in order to help ensure the safety of all the survivors staying inside the building. Any survivor found raising or lowering the barricades may be directly "put to the question" by any member of the B.A.R. present at that time. If this happens the accused survivor is required to present a valid reason for their actions or be labeled a zombie spy/death cultist and be judged accordingly.
Survivors are reminded that should any member of the B.A.R find the barricades raised higher that Very Strongly without any apparent danger to the building or area they have the authority to lower the barricades back down to Very Strongly in order to restore access to the building from the outside.


Playlist
Nothing. Currently open for managment.


Current Events
11/2011 - Club Webbe has become the frequent hideout for notorious PKer/GKer He's dead Jim. To prevent bedding down next to characters like this, the Burchell Arms Regulars recommend consulting the BAR Deadbeat List while you're in the area. Jesus Sante CFT 03:18, 7 November 2011 (UTC)
---