User:Monkadue
From The Urban Dead Wiki
Jump to navigation
Jump to search
Monkadue Whitemore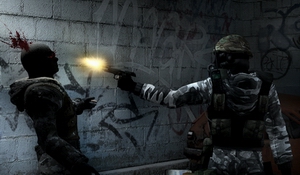 | | |
| --- | --- |
| Name: | Monkadue |
| Age: | 35 |
| Occupation: | Ex-SAS |
| Awards: | "none" |
| Current Status: | Up on my feet |
| Location: | Unknown |
| Current Level: | 13 |
| Death | "Unknown" |
| Joined: | 2007-07-07 11:25:03 |
| Group: | none] |
| Character Details: | Urban Dead profile |
  Monkadue  
  About  
This man glares at you over his reflective glasses; his face holds a grim and foreboding smirk.
Wearing: a pair of mirrored sunglasses, a blood-flecked red beret, a white scarf, a dark red short-sleeved shirt, a black coat, a pair of camouflage trousers and a blood-soaked pair of black boots.


---

Formally SAS, Monkadue was air dropped with his troop. After meeting up and they proceeded to the Malcolm Building in Whittenside, their mission was to secure the Necrotech building which would provide much needed help for Fort Perryn. After clearing the building of the zombie menace they'd brought the power back online and repaired the defences; Monkadues troop prepared them selves fro the worst. The zombies kept attack the Necrotech, wave after wave would strike at the barricades, tearing at them.
They radioed reinforcements from the nearby Fort Perryn, but when their cries for help fell on deaf ears they knew that they wouldn't hold out much longer. Their Captain ordered them to stand their ground against the zombie onslaught, for any minute reinforcements from Fort Perryn would arrive; Monkadue knew this was all just to keep the morale up. Finally when the barricades came crashing down and the zombies came tearing through the entrance way hungry for the brains they'd been lusting over for days, did Monkadue know that it was time to retreat.
Leaving his troop behind he moved north to Gulsonside, he slept in Northcote Avenue Fire Station where by pure coincidence he bumped into his cousin Kalenium. She claimed to have given up on the army after discovering the Flowers of Disease, they were a vicious bunch who didn't take anything from anyone, Kalenium mentioned several other groups that she had worked with while part of the Flowers of Disease:Leighton Kru, Knights of the Apocalypse and the Sociopath Apostles. She noted that the Sociopath Apostles were working in the area and maybe to give them a go if he was looking for something in a similar line of work, they embraced and went their seperate ways.
Since then Monkadue has been trying to track down the Sociopath Apostles..


  Stats and Skills  
Class:
Level:
Skills:

Military

Basic Firearms Training (Player gets +25% to hit with all firearms attacks.)

Pistol Training (An extra +25% to hit with a pistol.)

Advanced Pistol Training (An extra +10% to hit.)

Shotgun Training (An extra +25% to hit with a shotgun.)

Advanced Shotgun Training (An extra +10% to hit.)

Hand-to-Hand Combat (+15% to melee attacks.)
Free Running (Can move between adjacent buildings without stepping outside.))
Scientific

First Aid (Player is able to heal an extra 5HP when using a first-aid kit.)
Miscellaneous

Shopping (Player may choose which stores to loot, when searching a mall.)

Bargain Hunting (Player is 25% more likely to find something when searching a mall.)

Body Building (Player has a maximum of 60 Hit Points instead of 50.)
Construction (Player is able to build barricades, repair machinery and restore ruined buildings.)
Headshot (If the player delivers a killing blow to a zombie, it must spend an extra 5AP to stand up.)
  Kill List  
This is a list of those whom I have murdered http://iwrecords.urbandead.info/01-02-08_0100hrs_PUBLIC/IN_98-80_marvelouswn_78a-dde-ff2.html http://iwrecords.urbandead.info/01-02-08_0100hrs_PUBLIC/IN_99-78_mtibet_5e1-389-fb3.html




  Hit List  
This is the list you don't want to find your name on, because that means I'm going to hunt you down and gut you.




  History  
  Thanks to:  
HUGE thanks to Karth Salvage for breaking his back on this awesome piece of coding, so a round of applause for Karth!
  Show Support!  
PKer
This user is a PKer and is probably off killing some poor defenseless survivor.