Dolbridge Street (Pegton)
From The Urban Dead Wiki
Jump to navigation
Jump to search
Dolbridge Street
Pegton [84, 56]
Basic Info:
This is an empty block, and cannot be barricaded.
This street is home to one of the two billboards in Pegton.
Description
An historic street with a dilapidated iron bridge across a trickle which is all that remains of the Peggbrook. A billboard stands by the bridge, which once listed the tolls for various vehicles (although no cars, buses or mopeds are still operational in Malton).
In-game description
Humans and zombies alike will see the following (permanent) description when standing in Dolbridge Street:
"You are at Dolbridge Street.
A rotating billboard is stuck halfway between two posters."
Such a description is always followed by a description of what has been spraypainted on the billboard there, but since that description is never permanent and always subject to change, it is redundant to include it here as well.
History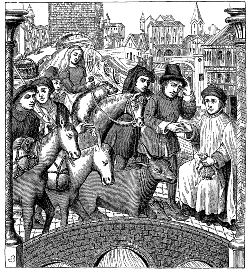 In medieval times, the Peggbrook was a noted waterway, much larger than today (most of the Peggbrook is now underground, or diverted to the River Kevan to the north). As a result, the wise Peggs were able to raise revenue from out-of-town traders by charging a toll for the use of the bridge which they had specially constructed at this strategic point, where the heights of southwestern Pegton drop to meet the northeastern flatlands.
The original stone bridge cut journey times dramatically, especially for mule traders, and contributed to the medieval prosperity of the suburb. With the advent of the motorcar, the new iron bridge became even more important; however, the advent of the zombie has resulted in its rapid decay as no-one dares venture out to paint its rusting ironwork any more.
---