Hardstaff Bank
From The Urban Dead Wiki
Jump to navigation
Jump to search
Hardstaff Bank
West Becktown [17,33]
Basic Info:
Banks are Dark buildings.
Among the internal descriptions found in Banks:

"The vault lies open, its contents either looted or transferred."
Banks can be barricaded normally.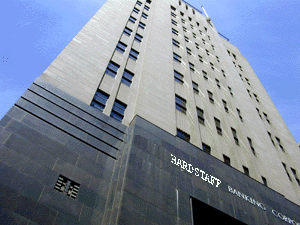 Hardstaff Bank
Description
History
Long before the colonisation of the greater Malton area, three men knew that one day the exchanging and safe keeping of monies would be a much needed commodity for the place. Basing their business out of a log cabin, the men used long, hard staffs to push money and money like products across the table to each other for counting. All three of the men were also overblown homosexuals and when their bank met closing hours, they would indulge in various, then considered heathen activities including but not exclusive to sodomy with their own long hard staffs. Hence Hardstaff Bank came into occurrence.
After decades of family work and corporate selling and buying, the bank remains a prominent if not somewhat strict branch of the Malton Bank. The sodomite parties came to an abrupt end when the Piegsa Place Police Department and Curle Street Police Department set up nearby, but the warehouses and factories in the area still house a number of suspicious parties and gatherings of young men concerned with the safety of each other in this zombie apocalypse state of affairs.
1xp can be earned spray painting the place with the tagging skill. Nothing of interest can be found inside the old grey building's empty vaults, though it's been said the place is warm, dry and good for a quick snuggle.
Barricade Policy
---