Knight Square
From The Urban Dead Wiki
Jump to navigation
Jump to search
Knight Square
Wyke Hills [55,95]
Basic Info:
This is an empty block, and cannot be barricaded.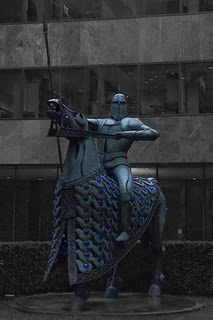 Description
Knight Square is a road, with nothing on it. However, this particular Square is a junction of three residential roads; Frith Square, Pysing Way and Honeybone Walk. As a result, the City of Malton placed a small knight statue on the edge of the grounds of the Wooman Towers (seen in the background of the above photo) as a landmark.
Knight Square functions as the primary revive point for the The Needs Building, a NecroTech facility that is supported by local survivors, the Wulves and Tactical Area Rescue.
History