The Snooke Arms
From The Urban Dead Wiki
Jump to navigation
Jump to search
the Snooke Arms
Rolt Heights [88,19]
Basic Info:
Pubs have no internal descriptions, apart from "...an abandoned pub."
Arms can be barricaded normally.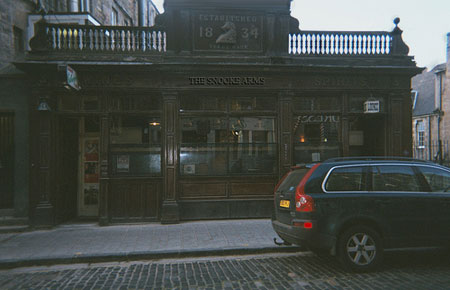 Description
The Snooke Arms is a small rebuilt pub located in the suburb of Rolt Heights alongside the suburb's very edge with Gibsonton just to the south.


Barricade Policy
This building should be Extremely Heavily barricaded at all times. This is in accordance with the Rolt Heights Barricade Plan and the barricade plan set forth by the Burchell Arms Regulars, who routinely monitor the barricade level for this building. This building is meant to serve as a safehouse for Malton's veteran survivors, and thus requires the Free Running skill to be properly utilized.
Survivors who find the building's barricades below their assigned level are asked to assist in raising them back up in order to help ensure the safety of all the survivors staying inside the building. Any survivor found lowering the barricades may be directly "put to the question" by any member of the B.A.R. present at that time. If this happens the accused survivor must present a valid reason for their actions or be labeled a zombie spy/death cultist and be judged accordingly.


Current Events
September 15th, 2006 - Recovering from the hangovers that eating hardened alcoholics from the Burchell Arms the night before, the Minions of the Apocalypse moved even slower than usual during their daily hunt. Even so, Nyark and Lumb were sure to search the Snooke Arms. Fortunately for survivors they found it deserted.
---