McDonald Drive Fire Station
From The Urban Dead Wiki
Jump to navigation
Jump to search
McDonald Drive Fire Station
Pegton [87,51]
Basic Info:
McDonald Drive Fire Station
McDonald Drive Fire Station is one of the 2 Fire Stations in the suburb of Pegton. Both fire stations in Pegton are located in close proximity to the Rowcliffe Building (which is 2W 1S) a Necrotech Facility. This building is an Entryway. Leave barricades at very strongly barricaded +2 to allow access for survivors and to make it easier for the zombies to break in.
For Future Help, recording a date to the building status is recommended.
Description
Humans and zombies alike will see the following (permanent) description when standing outside the building:
"You are standing outside McDonald Drive Fire Station, an imposing red-brick building with revolving doors."
Such a description is always followed by a report of the building's condition (e.g. the level of its barricades), but since that report is never permanent and always subject to change, it is redundant to include it here as well.
History
Barricade Status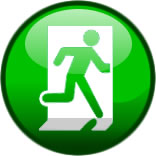 Entry Point. Keep at VSB++!