The Stephens Building
From The Urban Dead Wiki
Jump to navigation
Jump to search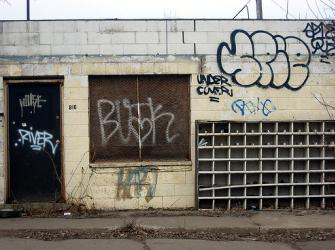 The Stephens Building
Description
Humans and zombies alike will see the following (permanent) description when standing outside the building:
"You are standing outside the Stephens Building, a derelict white-stone building, covered with graffiti."
Such a description is always followed by a report of the building's condition (e.g. the level of its barricades), but since that report is never permanent and always subject to change, it is redundant to include it here as well.
History
The Stephens building was built in 1926, a large office building with little purpose. By 1967 the offices had been vacated and the building was abandoned.
The building became synonymous with horror in 1982 when the building was found to have housed the Spicer Hills Snappers, also known as the Head Kill Gang or the Monkey Hell Corporation. The building was a haunted house of dead bodies, satanic rituals and strange experiments. The 40+ members of the gang had used the building well enough to almost fully restore it to it's full output it'd had up to 1967. From 1979 to 1982 the cult had used the building as their base of operations, and the building was bombed in 1983 by angry citizens, however the building still stood upright. In 1990 another attempt was made to bomb the building, this time by famous bomber Frank Hastler, however he was stopped when trying to plant a large bomb in the middle of the building.
In 1997 the building was bombed again, this time considerable damage being done, and the bombing was followed by the purchase and subsequent construction work by a famous computer tycoon, with plans to purchase. By 1998, many quit there jobs there, citing hysteria and depression, and by 2000 all offices were closed. Subsequent years saw the attempt to put both pizza and movies in the building, with no such luck. By the time the outbreak happened it was home to mostly hobos.
Barricade Policy
Current Status
---