Beer Drinking Zombie Busters
From The Urban Dead Wiki
Jump to navigation
Jump to search
Inactive Group

Beer Drinking Zombie Busters are no longer active. Its group page is preserved for archival purposes. Please do not edit this page. This group was reported inactive on 06:26, 31 December 2008 (UTC) Not Inactive?
Beer Drinking Zombie Busters

Abbreviation:
BDZB
Group Numbers:
5
Leadership:
Steamwhistle
Goals:
party in the post-apocalypse
Recruitment Policy:
send email
Contact:
bigshowjay@hotmail.com
zombie beer run logo courtesy of http://larc.csci.unt.edu/demos/fall03/ Created for LARC by Ian Parberry, January 6, 2004
'PUBLIC SERVICE ANNOUNCEMENT'
New to Malton? Tired of being ignored or forgotten by the establishment? Sick of being barricaded out to face the hordes of zombies alone? Can't stand being plucked off by veteran zombies? Feel the need to have a sense of belonging? Then BEER DRINKING ZOMBIE BUSTERS may be for you!
---
Prologue - Backstory
During the early outbreaks in Malton, a contingent of the Canadian Joint Task Force 3 was sent to escort a team of St. John's Ambulance First Aiders and a team of Scientists to assist in the initial emergency. That military escort call sign was "Bravo Two Zero".
Once Malton became overrun by the zombie hordes, Bravo Two Zero fortified a basement in a factory in Pitneybank, with a few remants of the rescue team and Malton refugees. The team leader, Captain Gibson, eventually went insane and the entire group either were dispersed or perished.
Disenfranchised, Steamwhistle along with one of the Team Scientists, a local con, and a displaced Canadian minor pro hockey player bunkered up with a cache of impairments and video games for a few months. They eventually formed a militia group known as the Beer Drinking Zombie Busters and headed out into Malton to assist survivors.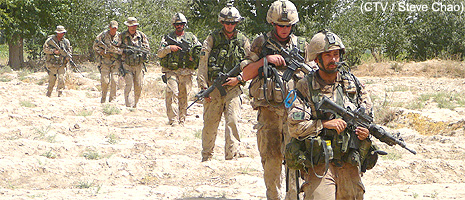 Bravo Two Zero on patrol during early outbreaks
---
History in Malton
Members of BDZB have been scrounging the streets of the east central suburbs of Malton. Members have been assisting other humans by announcing zombie activity, healing infected survivors, and informing survivors of Malton and Urban Dead information. Members have been known to frequent Paynterton, Starlingtown, Pitneybank, and Vinetown.
Occurence Reports
July 06 to Dec 06
Well how do you sum up six months of survival in one paragraph? After a slow start, once experience points got established progress was being made. Out of our 29 confirmed kills, 18 were mine. But perhaps we should be tracking our revives as well. Although I have met dozens of good people in Malton, I have also come across several pker's as well. Our group was decimated right before Christmas, and have only now risen to be revived again...--Steamwhistle 15:51, 31 January 2007 (UTC)
February 11, 2007
Woke up this morning to a massacre at Winsley Ave PD, Dentonside [98,50]. (Victims: Cptn Shady, Mtorres, K3vanDavis.) Although the situation is suspicious, it appears as though the culprit could be a PKer. The suspect's name is Inzader ZIM, id=461494. I didn't keep a screen print of the kill, so I won't be reporting it to Brainstock. The suspect stated at the end of his rampage that 'The X rules so says ZIM'. However, you'll note his profile does not associate him with the group. Was this a true PK, or an act of revenge? I say we hold off any involvement until we can confirm. Be careful out there.--Spotty McSmoke 15:45, 12 February 2007 (UTC)
March 6, 2007
Report Summary for February: Revives - 4, Kills - 2, Events - One of the two kills was a PKer who got me while I was preparing to revive zeds at a revive point. Came across Jussi Kurppa [1] 4 days later in Giddings Mall. Yippie-ki-yay mofo! Revenge is sweet!--Spotty McSmoke 17:36, 6 March 2007 (UTC)
Report Summary for February: Revives - 0, Kills - 7, Events - Secured Trotman Arms and used as a base for the month. Spent time clearing, securing and maintaining Maney PD, Dentonside. Not seeing a lot of the members around, as we're all spread out. Plans are to travel out for supplies, then head back to the homestead. A light will be left on for members wanting to come home.--Hank Madder 17:43, 6 March 2007 (UTC)
April 2, 2007
Report Summary for March: Revives - 3, Kills - 15, Events - Received a distress call from Spotty McSmoke, but was unable to get location or details. Haven't heard anything since then. Spotty, if you're out there, please report. All could be lost. However, Trotman is still maintained and secure. I will continue to help the citizens of Dentonside until orders come in. --Hank Madder 19:09, 2 April 2007 (BST)
April 12, 2007
Report Summary: Revives - 8, Kills - 4, Events - Casualty of the recent 'Mall Tour'. Spent too much time 'playing for the other team'. Took almost 2 weeks to locate Greenwolf but finally got a revive. Currently we're working in and around Pimbank. The recent 'Mall Tour' has left a great need for revives and a lot of buildings to barricade. Looks like we'll be busy for awhile. --Spotty McSmoke 16:45, 12 April 2007 (BST)
June 01, 2007
Report Summary for May/June: Revives - 6, Kills - 31, Events - Dentonside has been tough to keep secure. We've been overrun for weeks and I've had my fill of Zack gettin' me when I'm down. It's been tough and I've had to make numerous runs to other 'burbs for supplies and help. Reports from other members state they're continuing to check out as many locales as possible, leaving markers where they can. It's gonna be a long summer. --Hank Madder 23:57, 21 June 2007 (BST)
July 03, 2007
Report Summary for June/July: Mmmwwwaaaaa auuuuuhhhhh gammmmmmaaaaagrrrr arghhhhhhh --Hank Madder 23:36, 4 July 2007 (BST)
August 08, 2007
Report Summary for July/August: Whew! Finally made it back to the living. It was rough going for awhile, but I made it through. Back to securing our Dentonside stronghold and helping out the citizens in our neighbourhood. Sadly, came across Spotty a few days ago. Not only was she a zed, but she was doing a soft-shoe-shuffle, hoping for some change. When I went back to revive her, she was gone. Come home, Spotty. Wherever you are...--Hank Madder 00:19, 9 August 2007 (BST)
September 7, 2007
Report Summary for September: Keeping the home lights burning at the Ol'Trotman Arms in Dentonside. Crew members stopped by for a break, chat and to reorganize the effort. Greenwolf is still going strong and finding action where he can. Spotty's been on the lookout for new recruits and members MIA. I'll stay at home base and continue the efforts in Dentonside. Surgite! --Hank Madder 01:26, 8 September 2007 (BST)
October 4, 2007
Report Summary for October: Revives - 4, Headshots - 8, Events - 0. I'm wrapping up my brief stay in Dentonside and will be heading out to other areas, looking for more action. It's been nice keeping Hank company. Greenwolf has already left; following the fight and going where he's needed most. Still no word from my brother and no one has seen him in months. I fear he's gone - either to the cool jazz lounge in the sky, or lost in the haze of some hidden stash. Only time will tell. --Spotty McSmoke 00:22, 4 October 2007 (BST)
November 9, 2007
Report Summary for November: Revives - 11, Headshots - 22. Dentonside has been infested with a steady stream of zeds. They swarm in and out and we can't find out the source. Their actions suggest a greater intelligence than we first thought. Spotty and GreenWolf have moved on, but I'm keeping the base at Trotman secure. At least for now. May God have mercy on our souls. --Hank Madder 00:33, 14 November 2007 (UTC)
December 4, 2007
Report Summary for December: Revives - 16, Headshots - 21. Spotty and I have set up a drop-by revive point at 91,50 - The Blackburn Monument - in Dentonside. Very informal and requests are not needed. Members, volunteers and anyone interested can help revive those who've fallen. Unfortunately, business has been brisk. Maney PD is constantly under pressure by the zeds. We'll keep up the good fight. The good news is that with the colder weather, our brews are staying chilled. Cheers! --Hank Madder 23:38, 4 December 2007 (UTC)
January 7, 2008
Report Summary for January: Revives - unknown, Headshots - unknown. The 2007 holiday season will be known as the Christmas Massacre in this neck o' the woods! The zeds got organized and hit almost all of the secured buildings in Dentonside. Revives have been EXTREMELY slow and most team members are stuck in limbo at various sites. If only the team could get back to the living, we could speed up the rebuilding of Dentonside. WILL NOBODY SAVE US?!?! --Anonymous 13:57, 7 January 2008
Full Members
Club members
BDZB Policy, Recruitment, and Guidelines
BDZB is dedicated to assisting human survivors in Malton. This is acheived by communicating pertinent information to other humans about Malton incidents and zombie activity, healing surivivors when possible, and eliminating zombie threats when possible. Want to join?. New members should support BDZB guidelines, either place BDZB or Beer Drinking Zombie Busters in your profile group catergory if you want to be a FULL member, or just add the BDZB template on their group or user page if you want to be a CLUB member. Also either leave a note on the BDZB discussion page or just send an email to notify Sgt. Steamwhistle. Some basic guidelines for new survivors to Malton and BDZB members:

a. read the urban dead wikifor information
b. hit the search the area several times when in a building, you may find multiple items
c. if hungry for your first kill, concentrate your attacks if you find a zombie with only little hit points left
d. when visiting or barricaded in a pub or arms, make sure you offer a lovely lady or handsome man a drink at the bar
e. graffiti over non-essential spraypaints - not over good information or other respected human group tags - with a BDZB type slogan

BDZB slogans
a. anything with Beer Drinking Zombie Busters or BDZB in the tag
b. All Hail Shaun!
c. R U drunk enough?
d. Beer. Naturally fat free.
e. Lager. Making friends funnier since 1420.
f. Stout. Unexpectedly chock full of vitamins.
Let's All Go To The Beer Store
Tips and Suggestions
To enhance your game experience, you can download the Urban Dead Toolbar. Just read through the information and follow the instructions on how to do so. This improves the graphics of the buildings and uses cool icons for your inventory. You're also provided with handy shortcuts and links.
BDZB Goals and Objectives
Currently, what really beats cold brews and exploding zombie heads in a post apocalyptic chaos? Our short term goals are to enrol Full memberships and Club memberships to enjoy cold pints and even watch some movies in Malton's cinemas. Full BDZB members belong to the group while Club members are allies to the group who just like to drink beer! Our long term goals, once current membership EP is increased, are to eventually re-establish a Militia Fighting Force in Central East Malton.
BDZB Stable Brews and Beer of the Month
This section is dedicated to some of our club beers and features a beer of the month. Hopefully you are lucky enough to find some of these in the ruins of Malton! Please see the map of all pubs in Malton

BDZB Club Beers
I. Steam Whistle, clean, crisp, natural flavored brew
II. Kilkenny, a smooth creamy ale from Kilkenny Ireland
III. Sleeman's, any type of Sleeman's is great, but in the summer try their Clear with a lime!

Beer of the Month
July: Steam Whistle *[2]

August: Samuel Adams *[3]

September: Guinness *[4]

October: Red Cap; we found some warm cases of Red Cap underneath the stairs at Ludlow Auto Repair in Dentonside. A little skunky but it's filling the gap.
November: Potato Hooch; okay we are getting a little worried. Seth's homemade hooch will peel paint and it gives you a wicked hangover! When are they gonna drop some more supplies? We need BEER!
January: Sleeman Honey Brown *[5]; For our good friend Hank. Happy Birthday Hank! Take a break from the zeds and have a cold one on us!

February: Red Cap Ale *[6]*[7]; Found this gem in the alley behind the Trotman Arms in Dentonside *[8]. It may not be the best beer in the bunch, but it's in a stubby. And for that reason alone, I say cheers and Happy B-Day to Steamwhistle!

March: BDZB Hot Toddy; with the nights so cold, we're looking to warm up a little. Try warming up your beer and adding lemon and/or honey. Cheers!
April: Alexander Keith's *[9]

June: Supplies are low and we just couldn't bring ourselves to mix up a batch o'potato hooch. We found a case of Smirnoff Crap and used it for target practice. Even we're not that desperate.
We also would like a send a cheers to human group 5punk and their Malton Good Beer Guide
Affiliations and Supports
Sobriety
Steamwhistle is currently buzzed
This user believes that Snake Plisskin is the Messiah
One Day He will save us all
RockStar
This user or group recognizes that 2 Canadians have won back to back RockStar
--Steamwhistle 16:16, 30 August 2006 (BST)