Keppel Towers
From The Urban Dead Wiki
Jump to navigation
Jump to search
Keppel Towers
Pegton [82, 58]
Basic Info:
Multi-story housing blocks. Windows can be jumped from to turn a character into a zombie.
Towers have no internal descriptions. Some towers, like Lerwill Towers in Greentown, have mobile phone masts mounted on them.
Description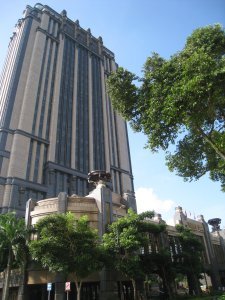 An Art Deco skyscraper, with perfect feng shui.
History
Keppel Towers was a Singaporean presence in Malton, specifically of Asian financial powerhouse Keppel Inc. Its close proximity to two train stations allowed the Towers to serve as one of Pegton's financial centres before being quickly overrun during the zombie outbreak.
Pegton was also chosen because the local dialect was known to be remarkably similar in grammatical structure and cultural attitudes (if not accent) to Singlish, allowing Pegtonians and Singaporeans to work together easily: "Dey two fren-fren one, lah".
The first locals who went through the wired fences made a shock discovery: heavy armament was stored in the Tower's basement. Apparently, according to documents found in the basement area, Keppel Towers was meant to be an alternative to Forts Perryn and Creedy, in the event that either or both forts were compromised in an emergency. The armament was quickly looted by the locals, and now there is nothing left: not even a magazine is to be found.
Standing 79 storeys high, it is the tallest building for quite some distance around the Four Corners region. However, the upper floors are inaccessible because of structural damage to the stairways caused by an explosion - the result of careless transportation of RPGs from the basement.
Keppel Towers has been the headquarters of the Pegton Militia, 1st Squad since its occupation on February 17th, 2009.
Barricade Policy
Current Status
For Future Help, recording a date to the building status is recommended.
7th January 2009: Unknown. Pasonia 08:11, 7 January 2009 (UTC)
10 July, 2007: Unknown at this time. --Bono Landy 17:28, 10 July 2007 (BST)
---