McZeds/Yagoton Locations
From The Urban Dead Wiki
Jump to navigation
Jump to search
Find your nearest Yagoton McZeds
Due to the surge in open McZeds stores in Yagoton, we have created this page, especially for locating your nearest eatery. Listed with the original McZeds first, and the newest at the bottom, this page contains detailed location guides. All these stores are owned by Stuartbman, who is the district manager for Yagoton McZeds, but are staffed by various colleagues
Club McClean
McZeds Prime
Yagoton [47,18]
Basic Info:
Clubs are Dark buildings.
The usual internal description of a Club reads as follows:

"…in the near-darkness of the main dancefloor."
When powered by a portable generator, the internal description changes to the following:

"Coloured spotlights highlight an empty stage, and distorted music echoes over the speakers."
Clubs can be barricaded normally.
Club McClean was one of the original McZeds eateries; many disco dancers used to consume their raw flesh here during the outbreak, but the club has fallen into such disarray that even the McZeds section was buried under brainz, until Stuartbman came along and re-opened the store. As he follows The Abandoned's barricade plan, and demand is so high, the club and eatery will be barricaded, as only the most determined, and therefore hungry customers who have free running can enter. The staff do regularly throw rotten meat out of the window however, so that no-one can go hungry. Currently at peace with YagoBrew, and Dexter Manley in particular. All help is welcome. McZed's™.
Warehouse 45,12
a warehouse
Yagoton [45,12]
Basic Info:
Warehouses can be barricaded normally.
This fine McZeds was founded after Stuartbman founded Club McClean, and after the Wars of the Zomburger ravaged the establishment. But there was one Abandoned member who stood his ground alongside Stuart. it was fienom, and he can be seen running his own establishment here. 1 West of the fast food eatery is YagoBrew, who are new time allies of McZeds, after resolving the brief YagoBrew-McZeds War.
The Humpfries Arms
the Humpfries Arms
Yagoton [47,19]
Basic Info:
Pubs have no internal descriptions, apart from "...an abandoned pub."
Arms can be barricaded normally.
This is the original Humpfries Arms. The branch of this pub is located to the neighboring suburb to the north, in West Boundwood. This pub was popular with the locals before the outbreak. It was so popular that, in addition to it branching out into West Boundwood, the neighboring building to the north was converted to a club to capitalize on its success prior to the outbreak in Malton. In undeath, however, the club has become a McZeds Eatery, and has recently expanded into the pub. currently run by connor the heretic, he's always happy to help!
St. Hugh's Church
St. Hugh's Church
Yagoton [48,17]
Basic Info:
Churches have no internal descriptions.
Church doors do not close but can be barricaded shut.
St. Hugh's Church is a church with the coordinates [48,17], situated in the suburb of Yagoton. This is the one of the three churches in Yagoton that is to be extremely heavily barricaded.
Before the outbreak, the Church served also as an extension to the Rounsefell Library, housing several historical Christian artifacts including a copy of the Lord's prayer written on a pair of women's undergarments in the 4th century, supposedly to guarantee the chastity of the wearer. Since the outbreak, all artifacts that used to be housed in the church have been looted. It has been reported that the pair of undergarment with the Lord's prayer has been seen on the body Zaknrfama, the leader of the Neon Knights.
In death, however, the Church has been endorsed by McZeds, who now serve wholesome rotten flesh 24 hours a day throughout the apocalypse. This particular McZeds's is another founding of the dazzling young entrepreneur Stuartbman, who's main goal is to conquer Yagoton with McZeds's eateries. The church currently has other members of staff, yet to be named.
Newbould Place Police Department
Newbould Place Police Department
Yagoton [49,16]
Basic Info: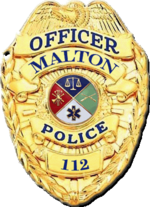 Newbould Place Police Department is located at coordinates 49,16 in the suburb of Yagoton. It is part of the Yagoton Police Department. It provides a convenient entryway/exit to the maze of barricaded buildings in Yagoton to those heading into the suburb from the east and southeast. The survivor group The BattleRagers claim Newbould as part of their territory (it lies 1N of Rounsefell Library, their home-base), considering it their personal armory. All other survivor groups are also welcome as long as they help with upkeep and keep it clear of Zeds.
This is now a new store, opened by the dazzling young entrepreneur Stuartbman who is delighted to be able to sell zomburgers to the officers of Yagoton police department. After all, times are a' changin', and your standard doughnut eating cop of the previous century is no longer good enough. A zomburger provides you with 6 of your 5 recommended zombies a day! This location is currently staffed by a crazy hobo, who's always friendly!
McZed's™ Menu.
Have them your way!™
Item
Description
Price
» Entrees
Zomburger
A delicious undead patty with lettuce, tomatoes and pickles on a warm sesame seed bun.
99¢
Fillet O' Flesh
The finest catch of the dead with mayo and special sauce.
$1.99
Royale with Bra!nz™
Here in Malton, we use the metric system, we don't know what the barhah a quarter-pounder is. The rest is an obscure joke.
$2.29
The Rotter™
A huge all-green patty, "Special Sauce", lettuce, cheese, pickles, onions on a sesame seed bun!
$2.49
Chick O' Zed™
Zombie chicken grown right here in Malton. Oozing with juicy undead chickenness.
$2.99
» Beverages
Small
Croke Cola™, Diet Croke Cola™, Dr. Revver™, Mello Hellspew™, Hi-Z™ Green Punch, Malton Dew™ (new!) or Iced Tea.
99¢
Medium
$1.29
Large
$1.49
» Side Orders
Finger Fries
Simply the best, thickest zombie digits, deep fried and golden brown.
99¢
Chili
A steaming hot bowl of spicy chili. Rich and hardy with flavorful chunks of ghoul in every bite.
99¢
Onion Rings
Hand cut Gourmet Onions breaded and fried with our special beer batter.
99¢
» Kid's Menu
Malty Meal
A Zomburger, small fries, and small drink in a fun box with one (1) free toy!
$1.99
FreezyZed™
An ice cold treat that you can enjoy with a spoon or straw. Chocolate, Strawberry, Vanilla, or Sangria.
99¢
I-Scream! Treats™
Available in vanilla, chocolate, mulato, and other flavors (depending on availibility). Topped with your choice of S&M's, Shrapnel Sprinkles, or Chunky Strawberry Sauce.
99¢, $1.25, and $1.49
Survivor-Size any Value Meal for only $1 extra!
---