Newstead Library
From The Urban Dead Wiki
Jump to navigation
Jump to search
Newstead Library
Pegton [89, 53]
Basic Info:
Libraries have no internal descriptions.
Libraries can be barricaded normally.
Newstead Library
Description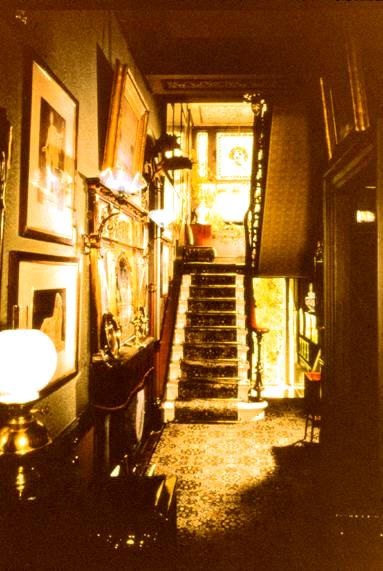 A pristine example of a late Victorian town house, once lined with antiquarian books and elegant Victoriana; now spattered with entrails and horrific Zombiana.
History
Bought by Old Howesian and former denizen of Guttridge Drive Eliza Newstead, the house - then called Eastview - soon became a beacon of culture and learning in the poverty-stricken wastes of eastern Pegton and the dull cultural desert of Dentonside.
'Miss Eliza', as she was locally known, gathered urchins and tots from the streets and invited them to her charming home, reading them the latest instalment of Dickens while serving them tea in bone china cups and giving them each two lumps of sugar with a silver spoon. The wide-eyed children must have felt they had died and gone to heaven, and indeed many of them did when struck down by the Paraguayan Flu.
Undeterred, Miss Eliza turned her home into a public lending library serving eastern Pegton, and her teatime readings became a fixture of Pegton's social round. However, she expressly forbade 'filthy Dentonites' to cross the threshold, an attitude which has been criticised in recent times.
A lifelong spinster, Miss Eliza died of a sudden bout of hysteria in 1913, and was buried in the rose garden of Harden Park, her favourite promenade spot. An English rose now grows on the site of her grave, with a single melancholy rosebud. Eastview was subsequently renamed Newstead Library in her honour.
After the outbreak, the Followers of the Apocalypse took over the vast collection of books and knowledge. They now use it as their base of operations.
Barricade Policy
Current Status
For Future Help, recording a date to the building status is recommended.

30 January, 2011: Defender Of The Weak and QuietDean inside, Safe at VSB, no decorations. Founding HQ of the Followers of the Apocalypse. Defender Of The Weak 01:50, 31 January 2011 (UTC) 24 September, 2009: Empty no zombies or survivors around, not barricaded.
12 September, 2007: Safe. EHB. --Steve Ryan 15:00, 12 September 2007 (BST)
10 July, 2007: Unknown at this time. --Bono Landy 17:28, 10 July 2007 (BST)
08 July, 2007 SAFE (although there is Graffiti with the words "kill Individual 11"). --Bono Landy 15:01, 8 July 2007 (BST)
---