ROACH Klips
From The Urban Dead Wiki
Jump to navigation
Jump to search
Group Info
A ragtag group of survivors from the Roachtown ghettos. Not much is known about them or their leader. What is known is that most of the members were local ruffians and outlaws that now find themselves united to fight the Zombie scourge. They are pro-human and aim to help anyone they can. Their ultimate goal is to free Roachtown from the undead. If you or your group needs assistance, please contact us and we will try to help in any way possible!
Group History
Members
Only available for ROACH Klip members and our allies. Please visit the ROACH Klips Forum for recruitment, diplomacy or any questions.
Friends & Allies
A list of the People and/or Groups that we support.
Enemies
Zombies, Zombie spies, Humans who prey on the weak and anyone known to PK.
Ongoing Missions/ High Priority Goals
Radio Info
ROACH Klip Radio was once set up and operated on 28.19 mhz! Currently the airwaves are quiet! If you need to contact a member of the Klips, please use the forums.
Current News and Info
All news items have been moved to the new ROACH Klips Forums, please click on the link and join us in our discussions!

The ROACH Klips are sorry to say our suburb has been vandalized with false links to our forums. We would like to say that if you follow a link that does NOT lead to ROACH Klips Forums, then a ROACH Klip has NOT sprayed it.
The Official ROACH Klips revive point in Roachtown is currently active! Please wait at Bateson Street [56,34] and we will try to assist you.
Contact us on our forums or request aid at DEM Revive Service for a faster revive.
Please note that the ROACH Klips no longer support the Sacred Ground policy. If you want a revive, please go to Bateson Street. It's not far.
Recruitment & Diplomacy
We are always looking for new members!!!
We are always open to new members who are interested in helping free Roachtown and restore order so that we may once again live in peace. We accept all levels of survivors, from the seasoned veterans to the new guy on the block!
We are open to establishing lines of communication with all human groups. If your group is interested in diplomatic relationships please contact us via our forums or in the game. We'll be more than happy to hear from you.
We are particularly interested in alliances within the suburb of Roachtown or in surrounding suburbs.
For all recruitment and diplomacy information, please post your group link or profile at: ROACH Klips Forum
ROACH Klips Manifesto
Article 1: Kill all zombies
Article 2: Defend all humans, unless this shall cost your life or that of your fellow ROACH Klip
Article 3: Stockpile as much weapons, ammo and supplies as you can
Article 4: Find others to join our fight, whether that be allies to the ROACH Klips, or new members
Article 5: Assist other groups that share the same cause as we do
Article 6: PK'ing is a sin, and we shall punish those who practice it
Article 7: We support the Uniform Barricading Policy
Article 8: Paint our name/logo on every wall in Roachtown
Roachtown Defense Plan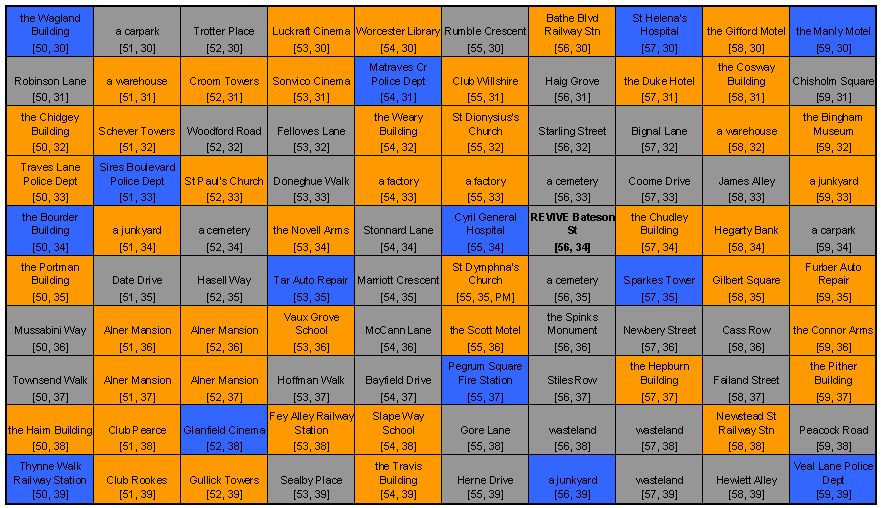 Orange buildings should be barricaded to EHB, and blue buildings are designated entry points and should be maintained at VSB. This plan follows the Uniform Barricading Policy with a few minor exceptions, most notably that the NecroTech buildings are to be maintained at EHB with an adjacent building set at VSB. We realize that this sets the NecroTech buildings essentially off-limits to those without Free Running, but we have decided that this is necessary in order to help keep our revive point running smoothly.
The ROACH Klips support the Uniform Barricading Policy:
Acknowledgements
Acknowledgements to the author(s) of the various other Suburb Defense Plans references for their work that inspired and was borrowed to create this page.
Malton Hospitals Group
This user or group supports MHG in their attempt to restore health care in Malton.