The Cosh Motel
From The Urban Dead Wiki
Jump to navigation
Jump to search
the Cosh Motel
Wyke Hills [57,96]
Basic Info:
50% chance of finding wine.
Motels can be barricaded normally.
Description
A large grey-stone building with a collapsed roof. The roof has been repaired enough to keep the elements out and to provide roof access so binoculars can be used in the observation posts.
The grey-stone construction and style of the building are unusual for the city and are a result of the Cosh being originally designed as a Regimental Hall and Barracks for the Malton Militia. As Fort Perryn and Fort Creedy became realities, the need for militia fell out of favor and the old Regimental Hall was sold off to Lt. Col. John Buford Cosh-the last Executive Officer and Commander of the Malton Militia Light Horse. "Squire Cosh" converted the Barracks to overnight rooms, the main hall to a publick room and connected the building via an underground armoury passage to the nearby Wolfendall Pub (Although rumor has is that the Troopers of the Malton Light Horse had already constructed the passage to the basement of the popular Pub). The resulting Cosh Publick House and Inn later became know as the Cosh Motel once the curtain walls were removed from the perimeter of the parade ground courtyard to facilitate parking and drive up access, although "the yard" remains unpaved as it was in the days of the Regiments' Morgan horses.
The paramilitary group named Wulves were recently conducting operations through this motel. Although it is currently vacant, the place is clean, if spartan and utilitarian in its furnishings. Communications equipment, maps and field tables are laid out in orderly rows between bunks and footlockers. The furnishings and equipment appear well-used and worn but they are also in good repair.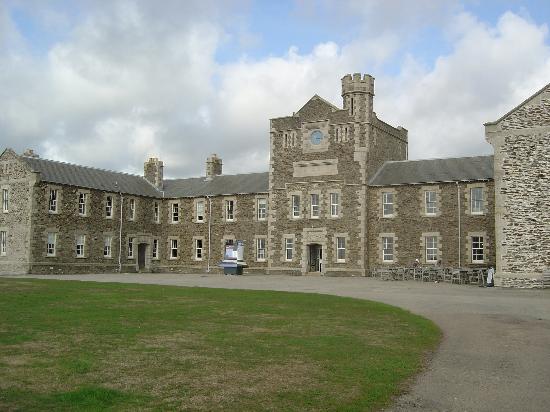 History
It is unclear when the roof collapsed; one would hope it was after the outbreak of course...
Barricade Policy
EHB.
Translation
In zamgrh, this location is known as zah Gazh Zahrhbarn.
---