Dinham Alley Police Department
From The Urban Dead Wiki
Jump to navigation
Jump to search
Dinham Alley Police Department
Pegton [82, 55]
Basic Info:
Description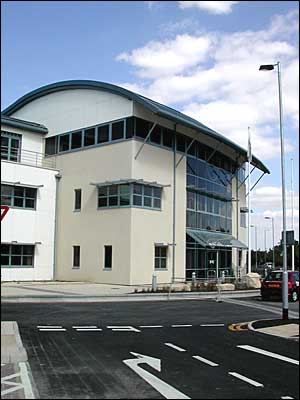 Dinham Alley Police Department is a police department located in the southwest sector of Pegton. The station is a distinctive concrete and chrome modern building with a curved roof, giving it the nicknames 'The Elephant' ('The White Elephant' by its critics).
It is one of 4 PDs in Pegton, the others being Fowles Plaza (80, 52), Tilly Row (80, 57), and Cowing Way (85, 53).
History
In better times, the station was home to over 60 officers, featuring a full service garage for police cruisers, holding cells for 50 prisoners and a community policing annex. Since the quarantine, the station has been sporadically occupied by its former officers as well as any survivors who manage to find their way in.
Dinham Alley's force was well-respected both locally and Malton-wide, with a reputation for courtesy and devotion to duty, although it became the subject of some intra-service mockery after 1990, when the new station was unveiled with great fanfare (and some embarrassment about the spiralling cost - it eventually cost the council 19.5 million).
A key moment in Dinham Alley's history was when the Carver Street Conspiracy targeted the building as one of its 'flashpoints', intending to detonate a massive car bomb outside the glass entrance and pin the attack on the 'nor'easterners', in order to derail the potential for the reunification of Pegton. Fortunately the attack was foiled, but the Dinham Alley force was shaken to discover that the conspirators had included friends and even family members. This factor played a part in the decision to sentence the conspirators to death. The sentence was carried out by hanging them with meathooks.
Barricade Policy
Keep at VSB: see Pegton Barricade Plan on the Pegton Page.
Current Status
11 June, 2009: Very strongly barricaded with a generator running. No radio transmitter. Well defended. No Zombies outside. -- Seven 07 14:37, 11 June 2009 (BST)
19 March, 2009 HB with genny and radio set to 26.70. 7 survivors inside. ChainReaction01 03:45, 19 March 2009 (UTC)
20 May 2008 EHB, Generator fueled up but no radio as yet, 11 survivors inside to keep up cades if needed --Ninja187 18:46, 20 May 2008 (BST)
9 Feb 2008 Big pile of bricks, ransacked and open.
8 Feb, 2008:EHB, no genny, no radio.--Gaston Tanstaffl 03:52, 9 February 2008 (UTC)

10 July, 2007: EHB, with powered genny and radio. --Bono Landy 16:54, 10 July 2007 (BST)
30 April, 2007 Very Heavily Barricaded