The Bullor Arms
From The Urban Dead Wiki
Jump to navigation
Jump to search
the Bullor Arms
Williamsville [38, 94]
Basic Info:
Pubs have no internal descriptions, apart from "...an abandoned pub."
Arms can be barricaded normally.
Short-wave Radio Info
This group or location has a dedicated radio frequency.

Frequency: 26.75 MHz
Transmitter Coordinates: Some dude's basement

Barricade Policy
Barricade to EHB (Williamsville Barricade Plan)
Description
Rumors
Exterior Description
You are standing outside the Bullor Arms, a tall metal-and-glass building with boarded-up windows.
On the roof of the building is a jukebox, it's covering a hole in the roof. Leaning on the jukebox is a PKer's corpse, holding a sign that says "Tip or Die!"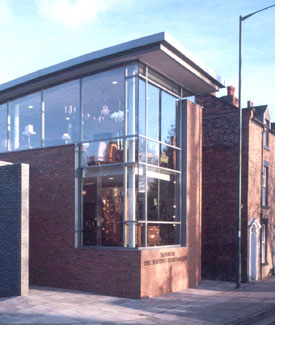 Interior Description
Inside the bar has an old-fashioned feeling, despite it's more modern exterior. There is a koi pond in the middle of the main room where a hole to a storage room used to be. There is a hall protruding from the main room. In the hall is two doors (closets) and the end is a staircase leading to the second floor.
There is a game room containing pool tables, darts, and pinball machines.
The main HQ of the Red Guards of Williamsville.
This building was heavily defended early 2007.
Drinks of the house
For the Harman in you:
Gin distilled during the 1950s
Zombie Juice©
Z&W Alcoholic Beer Floats
Snap, Crackle, and Burp!© beer cereal
For the Zambah in you:
Brain Fluid
Liquefied brains
Blood and all new low-cholesterol blood
Piss
Bullets
Quotes
"Okay, so that's our dedicated freq. I guess I'll go SW if you guys are done kicking eachothers' nuts" -Insomniac Clock. 8/15/09
"Man, I haven't seen so many commies in one bar since the Obama inauguration." -Jack Youx. 10/06/10
History
Post-Outbreak
MSLF's (Now the Red Guards of Williasmville) HQ in Williamsville. Serving drinks and death to zombies since December 26, 2006!
The Bullor arms was held as a safe haven for weeks during sieges on both Buttonville and Williamsville. It held against zombies for a long time, despite the lack of survivors inside. The survivors that were inside coordinated shifts to keep watch over the building for 24 hours, every day while it held.
Pre-Outbreak
The Bullor arms before the outbreak was a newly built structure atop a wasteland in Williamsville, built around February 2005. It was originally going to be an art gallery but due to errors in contract signing and the fact that nobody wanted to put an art gallery in an industrial area, it went unowned.
The Bullor Arms was mainly used as a storage area for construction companies working in the area. The building was constantly covered in graffiti.
In April 2005 a man of about 34 named Eddie Bullor moved to Malton from Dublin, Ireland looking to open up a pub. The reason he didn't open one in Ireland was because of miss understandings with the Garda, the Ireland police force. The Garda then kicked him out of Dublin and he eventually moved.
In May the Bullor Arms building's price had been slashed down twice making it a good buy if anyone could fix it up. The neighborhood had a slight increase of criminal activity from a group named DNR rioting against the two NecroTech establishments in the area. The construction agencies also had done a number on the building itself.
Eddie Bullor bought the building in mid May, though he needed money to fix the place up. He called his friend back in Dublin to send him some money in a transfer. They got into an argument over whether or not he would pay back. Eddie eventually convinced his friend that it was a good investment and that he would pay him back.
Eddie used the money to redecorate the inside to look old fashioned, but he never got around to getting solid walls outside.
The Bullor Arms received good business from construction workers and regular folk, but he still had to compete with the Jervis Arms next door. The Night Clubs just a few blocks south weren't helping either. Eddie bought some advertisement fliers and posted them all over Williamsville.
Eddie made friends fast, it happens when you are a bar manager. Some of his friends even agreed to post some advertisement fliers in neighboring suburbs for him for some free beer. People came down from Dartside and Buttonville for a drink at the Bullor Arms. Eddie even got mentions in Malton wide newspaper, critics gave him very good ratings. Yes, things were looking good for Eddie Bullor and his pub.
On July 1st the pub had a recession in customers. Eddie Bullor was sad, but he was hoping that there would be more customers as the summer went on. Eddie Bullor never had a chance.
---
Scentoral Imaging Location
This block has been chosen as a location for scentoral imaging by harman conservationists who use it to maintain a full migratory map of zombie movements throughout Malton. damage-resistant, zombah-friendly keypads have been installed for the uploading of data.



Field agent=--
 Albert Schwan 
Update Image