User:Marcusfilby
From The Urban Dead Wiki
Jump to navigation
Jump to search
F/Sgt MarcusFilby, RAF No. 22 Squadron, C Flight
Listed MIA in Malton: 6 Oct 2008
The Past
Prior to a forced landing in Clapton Stadium during the initial stages of the Malton outbreak, F/Sgt Filby happily served as a RAF Sea King crew chief out of Anglesey, Wales. Presently, his only involvement with his past employer is throwing empty beer bottles at any of the choppers foolish enough to fly low over Malton around Christmastime, refusing to pick him up. As an avowed bachelor with little in the way of surviving family, F/Sgt Filby's M.I.A. status aroused little uproar after the disappearance of his flight in Malton, and the Ministry of Defence has subsequently classified him as presumed deceased. While some might consider this a setback, Mr. Filby has come to see the bright side of the matter as he is apparently absolved of all his standing debts (of which there were many) and can finally live free from the harrying persecution of speed cameras and traffic wardens.
Upon coming to terms with the fact that he was stranded in the quarantine zone and realizing that there was little demand for career chopper crewmen, F/Sgt Filby put his military training to good use and signed up with the
Malton Police Department
in hopes of seeing some semblance of order returned to the decimated city. Enrolled in the KoTD campus of the DEM
Academy
, he experienced the usual baptism by fire typical of Academy cadets, leading a small team of
MPD
and
MCDU
recruits during
RRF
incursions into the
Roftwood
area and a
Mall Tour 09
visit to
Nichols
in
Stanbury Village
. Upon graduation he received his Sergeant's stripes and was posted to
Holly Crescent PD
in
West Grayside
, though more often than not this period found him up in
Kempsterbank
, opposing the
MoB's
thrust through that suburb. After this action he was promoted to Chief Inspector of
DEM's
SE-4 district, just as
Mall Tour
rolled through
Wyke Hills
on its way towards
Pole Mall
in
West Grayside
, bringing Filby's Malton journey full circle. The police element of SE4 was soon incorporated into
MPD's
Counter-Terrorism Command
, and CI Filby and his team began a roaming tour of the entire SE division, putting out fires in
Whittenside
,
Stanbury Village
,
Roftwood
and elsewhere. During this time he became closely allied with the
Knights Templar
and other survivor groups working in these suburbs, making many new acquaintances. It was a happy, if busy, time for him.
Ultimately, however, strife from within his own organization would undo this contented stretch. Some time after the lengthy and convoluted investigation into the MPD SW's Instructor DobermanGuy for infractions against DEM policy, another expulsion - that of one of the Firsts Among Equals of Axes High, Hardcore Rockabilly - conducted in summary fashion prompted the MPD Southeast Superintendent CheckeredOne and Marcus to resign their offices in protest of the perceived unequal treatment of these two DEM personnel. The majority of the MPD's Southeast field personnel soon followed suit, sparking a firestorm of criticism and unrest within the ranks.
After giving up his badge, Marcus sought new purpose and new license to protect his second home, the neighboring suburbs of Kempsterbank and West Grayside where he'd first entered the city. He found both in an old ally, and was soon inducted into the ranks of the Militaris Templi, becoming a Knight of the order of the Cleansing Fire of Saint Charles shortly thereafter. While finding himself once again among close allies did good his heart, the knightly, monastic lifestyle didn't sit well with Marcus. Though he became 2iC of one of the CFSC's fireteams, the Redeemers, in time he decided to strike out on his own. He drifted for a while, running down bounties on some of Malton's most wanted to make ends meet, but eventually fell in with an eclectic crowd of card sharps and malcontents that fell on both sides of the fence, where the law was concerned.
WBJAH

Knights Templar (Knight Emeritus)
DEM Service Record (Former)
Enrolled 30 December 2008
SE-4, 28 February 2009
SE-4, 22 March 2009
Graduated 24 February 2009
Operation Ronda
Operation Pole Dance
Weekend at Perryn
Roftwood
Kempsterbank
West Grayside
Whittenside
Resigned Commission July 12, 2009
SE4 156

Chief Marcus Filby (MPD)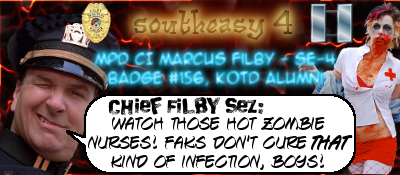 Member of the Gore Corps
B!ZZHA B!ZZHA
LittleCaesar may or may not be the foretold prophet who would bring a variety of cheap and at least mostly edible recipes for doughy, pepperoni-infused brah!nz to the zambah Homeland - some say he is the one, others just a dead harman delivery boy with a little too much dedication to his job (that might explain the toga and the olive wreath, anyway). Whatever the case, these days he works door to door in quite a different capacity, knocking down hateful barricades to get at all the chewy, tasty bits inside wherever the Ridleybank Resistance Front's Gore Corps comes calling (frequently shoulder to shoulder with his first and former outfit, Team America). Still a babah zombie by most reckonings, he strives to do his horde proud, improve the flavor of found brains with a variety of questionably-hygienic additives, root out the taint of harmanity wherever it be found in the Homeland, and spread holy barhah wherever he shambles.

Death Cultist
If you strike me down, I will become more powerful than you can possibly imagine.

Gore Corps
LittleCaesar is the cheesiest member of the RRF Gore Corps.

Kyle 4 Everything '09
LittleCaesar has pledged support to the

KyleStyle For Everything '09

Campaign, agreeing that Kyle should be given every conceivable responsibility in the game.




God damn Solid Snake
This user has gone for so long without having a PK reported, they're obviously using the ol' cardboard box trick.




I Ate Ackland Mall!
This user helped put Ackland Mall
In Zombie Hands.

I Ate Tynte Mall!
This user helped put Tynte Mall
In Zombie Hands.

I Ate Caiger Mall!
This user helped put Caiger Mall
In Zombie Hands.

I Ate Stickling Mall!
This user helped put Stickling Mall
In Zombie Hands.

I Ate Hildebrand Mall!
This user helped put Hildebrand Mall
In Zombie Hands.

I Ate Buckley Mall!
This user helped put Buckley Mall
In Zombie Hands.

I Ate Tompson Mall!
This user helped put Tompson Mall
In Zombie Hands.

I Ate Marven Mall!
This user helped put Marven Mall
In Zombie Hands.

I Ate Giddings Mall!
This user helped put Giddings Mall
In Zombie Hands.
More Shameful Evidence of my Template Addiction
Weapon of Choice
This user's weapon of choice is his Glock 27 .40S&W.

Right to bear arms
This user supports the Second Amendment.

River Tactics Supporter
This User or Group supports River Tactics.

Tomatoes
Slimy, tasteless, and gross.

| | | |
| --- | --- | --- |
| | | This user likes boobies! |

Drama Llama
The Llama is watching you.

Hypnotoad
All glory to the Hypnotoad!

Why is capitalism superior to communism?
"Because I get to have sex on a huge pile of money while you work to feed your lazy brothers." -???

Anti-Trenchcoater
This user finds people with 20 shotguns and katanas to be obnoxious.

Ia! Ia! Cthulhu fhtagn!
In his house at R'lyeh, MarcusFilby waits dreaming.

Real Life Soldier
This user was or is a member of the real military of some country, and has learned that spending XP is way easier than boot camp.

Report PKers!
Don't let them get away with murder! Register them on the Rogues Gallery.

Shotgun Whore
Jill Valentine is a shotgun lusty busty thrusty.

With Blackjack & Hookers
Marcusfilby is the Ace of Spades of WBJAH.




Zerg Hunters Unlimited
Marcusfilby supports the Zerg Hunters Unlimited in their fair and quick extermination of multi-character abusers!

Zergers Suck
This user believes that there is no such thing as griefing a Multi abuser, they deserve everything they get.